Latest News
2016 looks like being an exciting season for the Cantare Singers. We have already performed a very successful concert at Northampton Cathedral, helping to raise over £1500 towards their building project.
During the summer members of the choir sang at a wedding in West Haddon: a very enjoyable experience. This is something we would like to get more involved in. We can offer a full choir, a small group, or soloists. If you feel we can help to provide music for your special day, please get in touch.
The choir also performed outdoors at the Heart of the Shires Shopping Village in August, a first for the choir. We had excellent reviews and have been asked to return in the run up to Christmas to help create a festive ambience. We are performing at 6 different venues in December, so hope to catch up with you at on least 1 of these occasions before Christmas. Please see our concert page for all dates and times.
The choir numbers now stand at around 46 choristers so our scope to take on new singers is limited. We are currently only recruiting people with the ability to read music or who have previous choral experience. If this is you and you are interested in coming along and seeing what we are about please contact our Musical Director or come along to St Andrews Church on Wednesday evenings at 7.30pm. See our contacts page for more information.
Hope to see you at one of our concerts soon
Cantare Singers

will entertain you!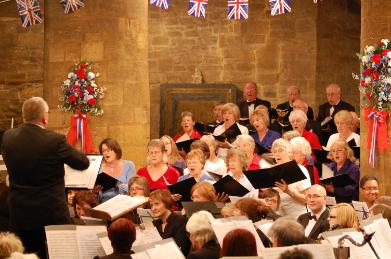 Introduction
Welcome! Thanks for visiting our website – we are always happy to get a visit from long-time supporters and new friends. Check out our concert schedule, who we are, and latest news.
Performances
We work hard in rehearsals to ensure we give the best possible performance, whether it be a full evening concert, a short afternoon performance or at a wedding or special event. Come, and be entertained. We love to meet our audience, so be sure to introduce yourselves afterward!
If you like variety in your music, then Cantare Singers are the group for you. Our repertoire ranges from Opera and Gilbert and Sullivan, through traditional songs to numbers by Elton John, The Carpenters and Sting. We love to perform "songs from the shows", from Rogers and Hammerstein favourites, through West Side Story, Oliver, Paint Your Wagon, Camelot and many more, to Chitty Chitty Bang Bang and Mary Poppins. No music catalogue would be complete without music from Andrew Lloyd Webber and we feature music from The Phantom, Cats and Joseph amongst others.
We are proud of our ability to sing sacred music, with a variety of arranged hymn tunes (some arranged specifically for the Cantare Singers), gospel songs, calypsos and more. We also perform Easter Oratorios such as John Stainer's "Crucifixion" and Maunders "Olivet to Calvary".
Christmas is not ignored. We sing a great mix of carols and songs (some serious, some not so), including Walking in the Air, Mistletoe and Wine, Frosty the Snowman and The Twelve Days of Christmas.
We are always adding to our repertoire and with over 250 individual items at our fingertips, we can be sure there is something for everyone.
Let us entertain you!
Testimonials
"I should like to express our thanks for the magnificent concert put on by the Cantare Singers" FTG Bird, Chairman of Appeal Fund, Bethany Homestead, Northampton. Dec 2011
"Thank you and your choir for the magnificent performance they gave of Stainer's Crucifixion during Holy Week 2012." Diane Latchford, The Parish of Duston and Upton
"thank you and your wonderful choir for giving us such a pleasant evening. Comments from everyone have been most complementary and all agree that they had an excellent evening". Rosemary Wallace, Church Secretary, Carey Baptist Church, Moulton, 2011